Is it possible to edit the lakemaster shorelines from a autochart zero lines sd card. They made shorelines for a bridge which I would like to delete as they influence my mapping in a negative way. Hope somebody knows how to do this.
In this picture you can see the problem.
They made shorelines which don't exist in reality.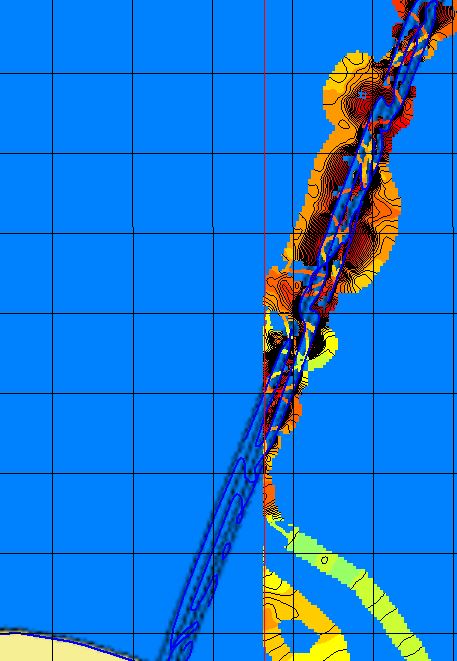 LeonB




Posts

: 8


Join date

: 2015-01-07


Location

: Netherlands



You can edit custom shorelines that you've imported from a .KML file. It's found under 'Tools' then 'Edit Data'. You can delete one data point at a time & redraw as needed with the 'Draw Line' feature.

Judecca




Posts

: 2


Join date

: 2015-01-27



Thanks for your reply!
I saw your other post.
So looking at the picture I added to this post. You see the dark blue shorelines from the zerolines sd card. In reality these lines doesn't exist as this is water under a bridge.
So with your solution I draw a new shoreline on google and import the kml file but I guess that the old zerolines sd shorelines stay there or am I mistaking here?
I need to get rid of these zerolines sd shorelines which are in the middle off the water.
Is making a kml shoreline file the solution for deleting the Lakemaster shorelines?



LeonB




Posts

: 8


Join date

: 2015-01-07


Location

: Netherlands



Leon,

From what I've found, you cannot use a combination of a custom created shoreline and the humminbird zerolines shoreline.  You have to pick one or the other for a map area.  

For your bridge area, you're obviously probably going to want to create a custom shoreline so that it shows water levels under the bridge, versus showing a make believe shoreline like the existing zerolines data.  

But, to use custom shoreline data, you'll have to create a custom shoreline for the entire lake.  

However, maybe you're not interested in the rest of the lake.  In that case, you could create a custom shoreline in the areas of the lake that you're intereted in, then maybe 'cut off' the rest of the lake by drawing the shoreline across the water.  Example.  Lets say your map is of a river, and you ONLY fish the bridge area you showed.  You are uninterested in the river to the north or to the south, but you want accurate shoreline data around the bridge where you fish.  In google earth, you could create a custom shoreline on the west bank as far south as you want to go, then draw the line across the water essentially cutting off the south portion of the river, then draw your shoreline up the east shoreline, then cut back across to the west shoreline where you started.  

Hopefully that makes sense.

If you want, you could let me know the area it is, and I could create a custom shoreline for you that you could import, and I would take screenshots along the way to provide a tutorial.

CamoHunter




Posts

: 79


Join date

: 2015-01-21



How do I get shorelines to appear on finished map? At zoom level of 1000 ft. they are there, 500 and less, they don't appear.

walII




Posts

: 1


Join date

: 2015-06-23



Don't think you can. Definitely a negative flaw for the card.

CamoHunter




Posts

: 79


Join date

: 2015-01-21



You need to re-map to fix that without doing any custom map.

go to settings and from there you have "Shore Lines"

under that you have source: and choose user defined data.


you need to delete you map folder from AC and re-map. this will allow you to see you data under the bridge

beaulieu80




Posts

: 2


Join date

: 2015-08-26




ggagnon




Posts

: 3


Join date

: 2017-08-07




Similar topics
---
Permissions in this forum:
You
cannot
reply to topics in this forum